Gender-Specific Programming for Women
OPEN TO CHANGE FOR WOMEN
This flexible, open group/open admissions program is available in a female version that speaks to the unique experience of women and substance abuse.

Click here for detailed information about this effective and flexible program.
SPECIAL TOPICS FOR WOMEN
The issue or topic areas below address some of the most frequent pathways to women's offending or similar life problems. Each resource set is tailored to help participants identify the nature of the risk these areas still present in their lives. It then provides a series of stages-of-change and MI-based interventions for group and individual work, helpful guidelines for staff to help identify and address specific issues, a clear set of behaviorally-stated objectives, and situational confidence assessments (SCQ)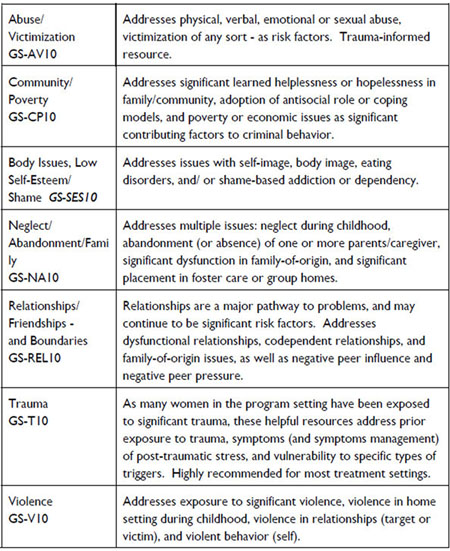 Additional Resources to address specific topics for women and young women: sex trafficking, running away, co-dependency, preparation for treatment, and women's turning points.
COMPREHENSIVE SYMPTOMS MANAGEMENT CURRICULUM
Specifically designed for the

most serious and persistent mental illness

, this easy-to-implement new curriculum is based on

Cognitive Behavioral Therapy (CBT), Motivational Interviewing (MI change model), social learning theory (skills modeling, practice, and mastery), and selected Dialectical Behavioral Therapy (DBT) skills

. Based on a program at use at Riker's Island Jails, this comprehensive, 50-hour program addresses a variety of common symptoms as well as specific overlays for Psychotic Spectrum and Mood Disorder symptoms.

The program makes a

clear connection

between client changes (med compliance and new coping skills) and feeling better (symptom frequency, intensity, and duration). It includes critical overlays for self-injury and anger/aggression/violence, along with a comprehensive set of skills for interpersonal competence. An emphasis on

Situational Confidence

in facing high-risk situations addresses

acting out behaviors

, with specific tools including Situational Confidence Questionnaires.

Download a PDF flyer with complete details
45-DAY, OPEN-GROUP RELAPSE INTERVENTION FOR WOMEN
Working at the request of our colleagues at the New York State Department of Corrections and Community Supervision, we created a new program resource that supports one last chance– an Alternative To Parole Violation. The vision was to give parole violators a powerful, CBT-based program that, if successfully completed, would allow them to avoid being revocated or violated back to prison.

Click here for detailed information about this effective and flexible program.

A New Freedom • © 1995-2023 A. R. Phoenix Resources, Inc. • All Rights Reserved •Any questions? Contact us!